---
News...
This is where we'll announce the most recent additions to our web site. If you've visited us before and want to know what's changed, take a look here first.
Please contact us if you are interested in seeing our drill in action or have any questions.
---

*** 7/20/2020 ***
Double J Farms is wanting to expand our farming operation, AND are still custom seeding (as time allows)! If you are farming and are thinking of retiring, or own ground and are looking for a new tenant, please contact us to discuss the possibilities. We are looking to lease and/or purchase farm ground to expand our farming operation.
We are setup to move equipment, so are willing to discuss the possibility of farming almost anywhere.
---

*** 7/20/2020 ***
Updated the weather page with rainfall totals.
---
*** 8/1/2018 ***
Double J Farms is now offering on-site service calls for Cross-Slot drills. With our years of experience with the Cross-Slot opener, helping with with maintenance and repair of the Cross-Slot opener is now a service we provide.
---
*** 8-23-2017 ***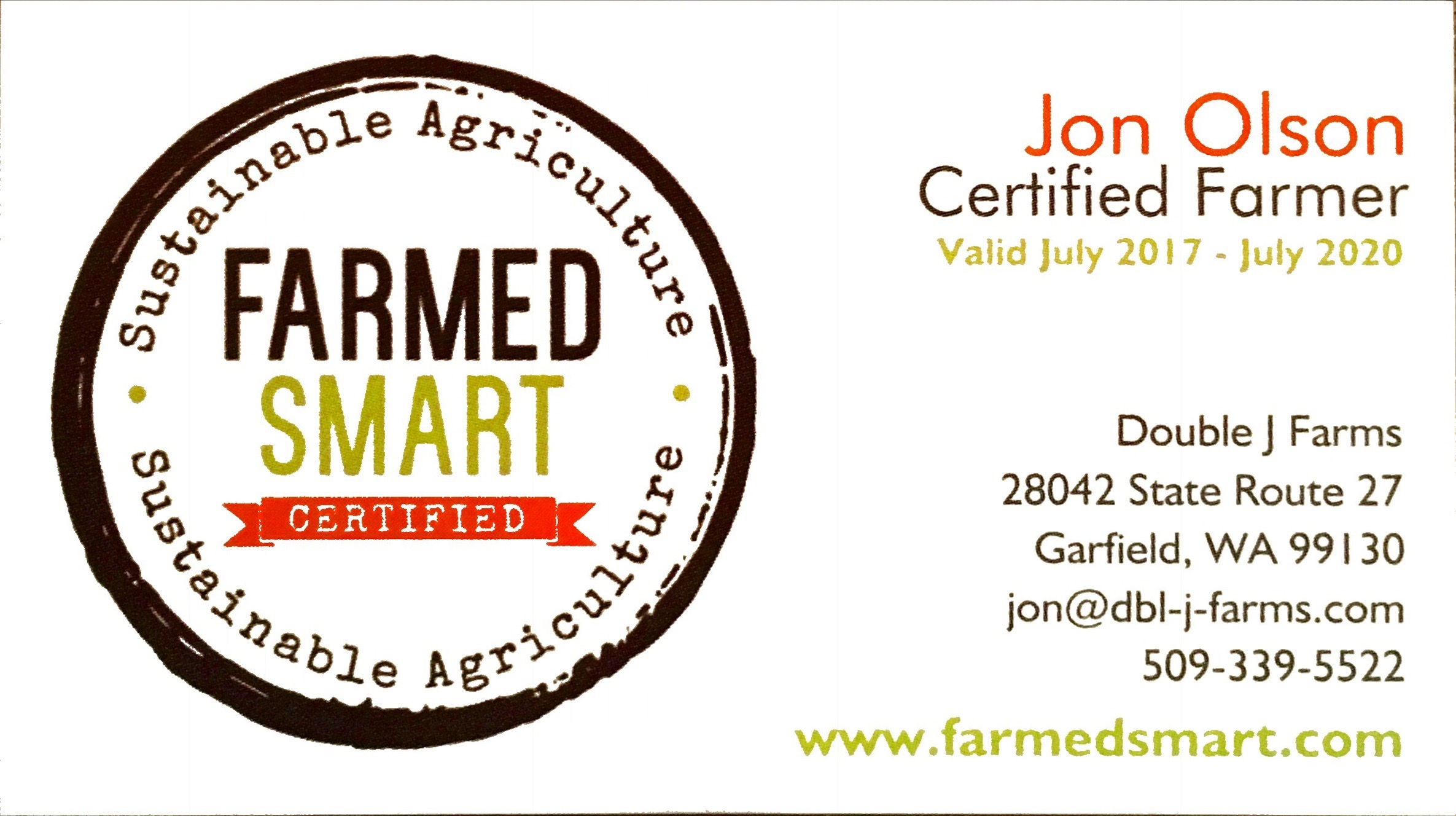 Our farming operation has been certified 'Farmed Smart' through the Pacific Northwest Direct Seed Association.
What does being certified mean? Click Here
---
---
NEW - Photo Album!
My Farm Shared Photo Album
NEW - Feb. 28, 2017
This is not a complete list (as we didn't picture all of the things that happened...) but hope you enjoy.
Whoops an Oops (link removed!)
---
*** 2-17-2017 ***
Fixed the Request Quote Form!
Fixed the Contact Us Form!
---
2-9-2017*** Important Future Meeting Dates (in advance)!
WPGA - 2017 Conference - December ??, 2017
PNDSA - 2018 Conference - January 9 & 10, 2018
AG Expo & Farm Forum - 2018 Conference - Feburary ?-?, 2018
---
1-30-2017*** Our Service Truck!

I have been asked by a few people about our service truck, and what we carry on it.
The truck is a 1994 KW Single axle truck, with CAT 3406 Engine, 18 spd Manual Transmission.
Super Singles on the steer axle, 10k lbs hyd crane (21 feet total length).
Came with a large vice mounted on the workbench style tail board.
Also came equiped with 8 flood lights, for doing repairs after dark.
Has a rear hitch, that we use to move header carts or our fuel trailer

We added ->

Gasoline powered air compressor
Miller welder/generator (and a suitcase wirefeed welder)
Oxy/Acl cutting torch
Standard and Metric wrenches, sockets, hammers, screwdrivers
A selection of air tools
10T porta power
Engine Oil, Hyd Fluid, Waste Oil Container, Grease, Gasoline
Variety of misc bolts, nuts, fasteners, misc shop supplies
Ladder, blocks, chains, straps, hyd jack
Gasoline JD Leaf Blower (used to clean off equipment)
260 gal water shuttle, with 6 GPM pump and 50 feet of hose with garden nozzle (one of the handiest things on the truck)
Gasoline powered pressure washer
Hyd hose crimper, fittings and hose
Depending on the season, we stock it with drill/tractor, combine and truck parts

We can do most repairs directly in the field, saving us the time of getting the equipment back to the shop to work on it. This is a big time saver just on our farm as we are spread out over 4 locations. It also is very handy if we have any repairs that we need to do while we are out doing custom work.
---
Conference Updates:
I attended the PNDSA Cropping Systems Conference in Kennewick Jan 10-11, 2017
It was a sounds a good conference.
I attended the Oil Seed Conference in Clarkston, WA on Feb 2nd. It was imformative and well attended.
I attended the Spokane AG Expo and Farm Forum on Feb 7 & 8, and had the opportunity to visit with many farmers from throughout the region. I hope that everyone that attended, came back with some useful information. I know that I did learn a few things.
---
12-19-2016 - I hadn't taken the time to update our website in quite sometime, as I am unsure exactly what users would like to see. Scheduling seeding jobs for spring 2017 is in progress.
---
12-18-2015 - I hadn't taken the time to update our website in quite sometime and figured on this slushy/wet day, that I would sit down at the computer and update a few things. I have removed all of the 'OLD' News from this page.
Added additional links to our links page.
Updated some content on our homepage.
12-10-15 - I have been told, that some conservation districts have some funds available for conventional farmers to try direct seeding, please check with them for specific details. See the No-Till benefits on our homepage.
---
---